Ride better than ever — guaranteed.
Mountain biking is so rad! And the better you get, the radder it gets!
Hi, my name is Lee, and I like bikes.
18 years ago, after successful careers in writing, editing, infographics and information design, I finally listened to the universe, quit what I was doing and dedicated myself to helping people find more joy on their mountain bikes.
11 books and more than 7,000 students later, I'm considered one of the best MTB skills authors and instructors in the world. Thanks to my professional background and mindful experience, my methods are simple, powerful and easy to learn.
You're a busy person with a real life. This online school gives you the essential info in a clear, easy-to-master format. Compared with other learning methods (including my old ones), you can practice less and ride more.
Come on in. Let's shred!
- - - - - -
"Lee is the smartest person I've ever known. Some pros (in all sports) will tell you to just 'do it like me,' whereas Lee spends enormous time analyzing everything, down to the most detailed physics involved in each action. His books are the best because he just thinks on a whole different level than anyone. If you want to get better, learn from the Master."
- D.M.
"Lee McCormack is not just another knuckle-dragging, hairy-legged mountain biker who 'dudes' and 'bruhs' his way through his mountain bike clinics, he's a full-fledged mountain bike guru, with a heavy dose of nerd."
- Kali Journal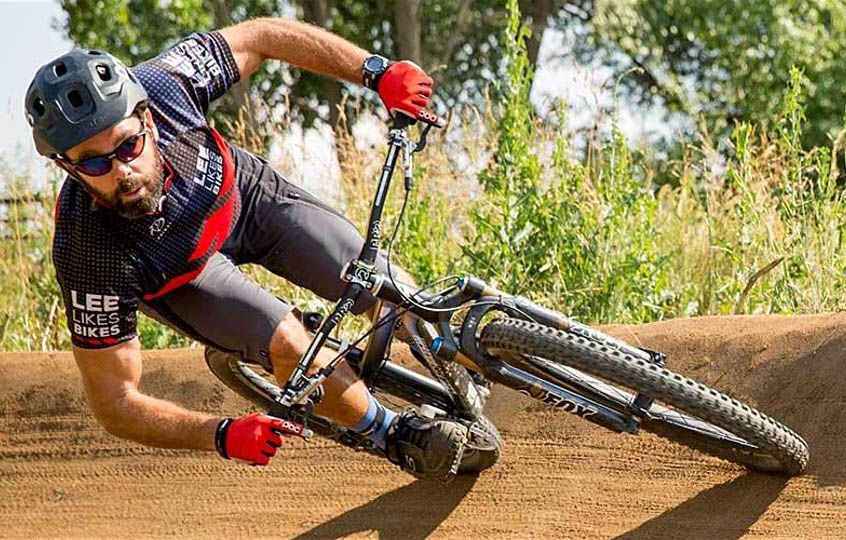 My hopes for you
I want you to have more fun on your bike. More confidence. More safety. More air. More speed. However you define fun, I want you to have it. Remember: As long as you're learning, you're having fun.
Apply the 80/20 principle. As I get better at teaching, I teach fewer and fewer skills. Rather than describe a random assortment of tricks, this site focuses on the core skills that help real people ride better: the essential movement patterns that you can improve, combine and apply almost everywhere you ride. You'll be amazed at how simple great riding can be.
As few steps as possible. When I started teaching, I had a long list of drills and things I wanted students to do. This was fun, and it made me feel smart, but on hindsight it wasn't very effective for learning. Now that I've taught more than 7,000 riders, I know how people learn ... and I understand that less is more. I teach the minimum number of skills and drills to get the job done. This means you practice less and shred more.
Use this medium to its full benefit. While an in-person class is probably ultimate way to learn, the Web is a powerful medium. It can provide context and permanence like a book, but you can bring it most everywhere, and it includes animations and videos. I can improve it over time, and it's interactive: You can post comments on this site's pages and to our Facebook group.
Give you a solid skills base. All great riding is built from the bottom up. This site focuses on the essential, universal skills that help all kinds of riders on all kinds of terrain. We start at the bottom of the skills tree and work our way into the branches. 
Lay out the path to mastery. The way I understand and teach riding skills, there are no magic tricks at the top of the skills tree. As you improve your core skills, you learn to execute them with more precision and power, and to combine them in interesting ways. In this sense, riding is like painting. Once you master the primary colors (aka movements), you can make any color you want. 
Have fun!
Lee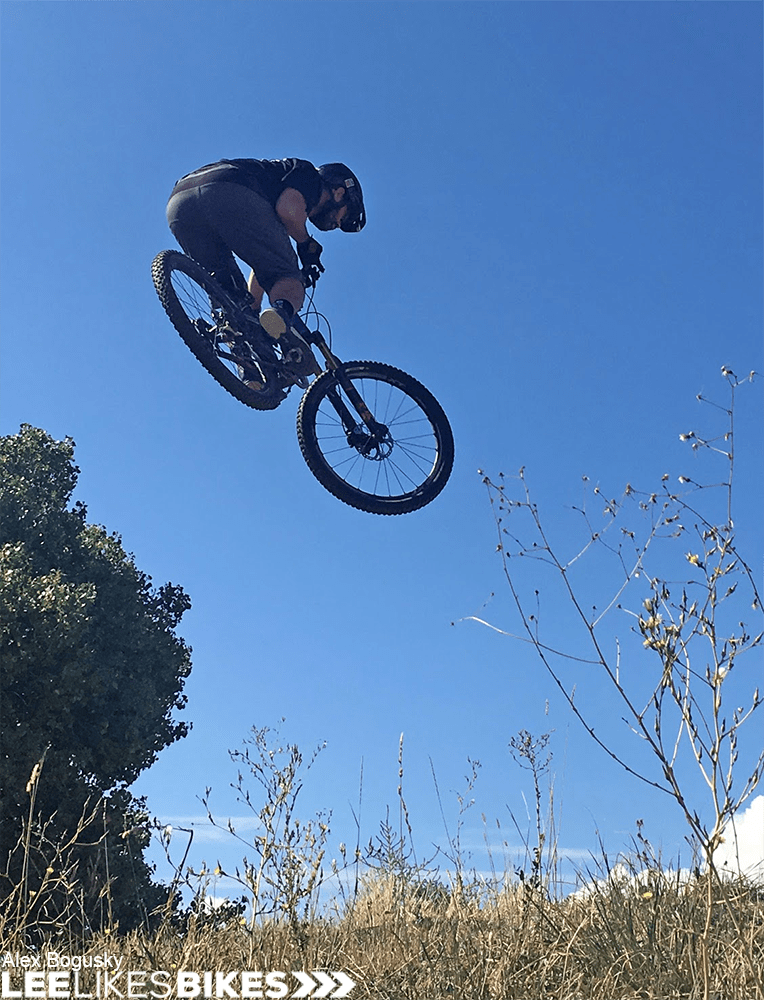 When I was learning how to jump, I SUCKED. Seriously. I was terrible. Scared, tense, way worse than you, I promise. But I stuck with it, and now I suck less — and I get to enjoy moments like this. I want you to suck less too!